Livonia's Leading Athletic Court Marking and Playground Stenciling Experts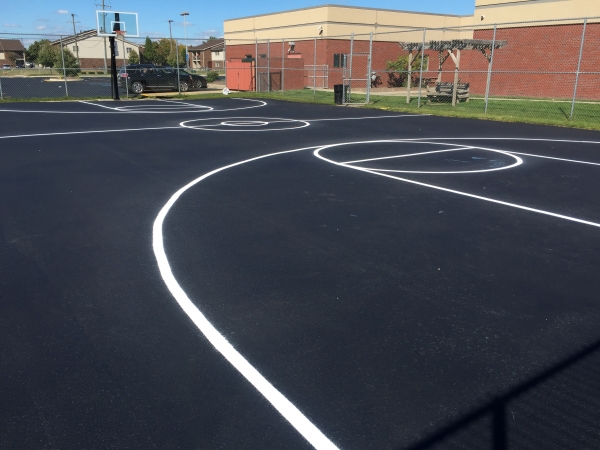 Action Pavement Striping offers line striping and stenciling services for playgrounds, athletic courts, schools, gyms and more in the Livonia area. Whether it's for a basketball court, tennis court, a free throw line on your driveway, or four-square and hop-scotch for a school playground, Action Pavement Striping is your go-to source for indoor and outdoor recreational striping services.
Each one of these projects is carefully planned and executed by our experienced professionals, all who share a passion for bringing your vision to life. We know that great work comes from using great products, and we only use top of the line equipment and paints at Action Pavement Striping. From beginning to end, your project will be completed with expert workmanship and attention to detail.
Southeast Michigan's Pavement Striping Experts Since 2000
Minimal Downtime and Inconvenience
Our quick-drying paints and equipment eliminate disruption. We go the extra mile to ensure our customers get unparalleled service for a fair price with minimal downtime.
Reputable For Being the Best
While our jobs may be done quickly, they're completed with exact precision and attention to detail. We have been recognized across Southeast Michigan for our accuracy!
Serving Every Type of Business
Our services are available to residential, commercial, industrial, and municipal properties around Southeast Michigan. We even have stencils for all major retail and restaurant chains!
Playground Stenciling and Basketball Court Striping for Recreational Areas in Livonia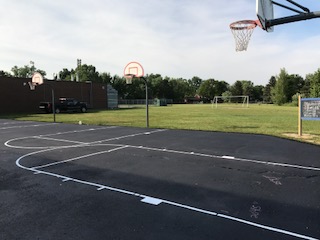 At Action Pavement Striping we also provide striping and stenciling services for recreational areas such as playgrounds and courts. If you need playground stenciling or court striping, let us help! Our outdoor and indoor sport striping projects are carefully crafted, bringing families and teams from all around Michigan together.
The team at Action Pavement Striping has donated playground stenciling and games to local schools to show our appreciation. We carefully plan and execute all our projects with our experienced professionals who share a passion for turning dreams into a reality.
Our team consists of uniformed experts that have a wealth of knowledge, experience and expertise in the industry and can provide great recommendations on a situational basis. We can guarantee that you'll be happy with our services! With a diverse portfolio, our crew has a keen eye for detail. This enables them to create flawless and accurate work time-after-time.
Customers love the Action Pavement Striping team!
"S&J Asphalt Paving Co. has had a great relationship with Action Pavement Striping for over 15 years now. JT Thompson, the owner of Action Pavement Striping, gives the prompt service, knowledge of the field and quality workmanship that our customers come to expect. As do we. Action has provided work for us doing all different kinds of jobs. From municipalities to schools to government jobs, JT and Action Pavement Striping can do it all. We look forward to our excellent continued relationship in the years to come." - Brett G., S & J Asphalt Co.
---
If you're looking for carefully crafted striping or stenciling for playgrounds or courts, contact us today for a free estimate!